Prosthetic Hair Before and After
Breathtec is a new generation
breathable hair prostesis technology.
breatⓗtec™ After 16 years of professional experience, passion for the best and years of research, we combined the quality of breatⓗtec ™ products with ONNA HAIR expertise.
After 16 years of professional experience, passion for the best and years of research, we combined the quality of breatⓗtec™ products with ONNA HAIR expertise.
We invite you to meet the quality of breatⓗtec™ with its most natural, comfortable, long-lasting and unnoticed infrastructure.

Meet the innovations in the world of breatⓗtec™, a new generation of prosthetic hair treatment Breathtec is just for you! It is produced for your own specifications and measurements.
You look extremely natural thanks to its unique structure. It lasts longer lifetime compared to similar technologies. Truthfully there is no technology like breathtec! It won't slip, remove and will not cause allergies.
You can swim, do sports, take a shower and socialize. During all these times you won't even feel breatⓗtec™. breatⓗtec™ does its' duty and during all these time you can adapt to happiness.
No tape Hair
Technology is in Turkey
Have you met the no tape system? Yes, you didn't hear wrong. There is no tape anymore. Try no tape hair technology for more natural and aesthetic appearance.
More technology develops more we can see new and better products in every field of life. One of these developments is no tape system for hair. In this system tapes leave their place to liquid adhesives.
These products which are applied on skin are approved by health checks and approved to be applied on skin. It won't harm your health.
No tape system is very natural that you can see on the right photo which belongs to one of , our customers whom we applied no tape hair prosthesis.
We are happy as much as our customer is. We are waiting you to be part of our happiness. For your questions about no tape hair prosthesis you can contact us. So we can introduce you ONNA HAIR brand which will start a new era for you.
Fill in a form for consulting an expert immediately. We will call you as soon as possible.
ONNA HAIR (Onna Hair Systems Industry and Trade Ltd. Co.) is one of included companies to ONNA corporate group. For years it has been investing in various sectors such as e-Commerce, Architecture, Retail Gold and Foreign Trade.
We have more than19 years of experience in Hair Prosthesis sector. We set out with determination and desire to offer you our customers the most natural, most aesthetic and unnoticeable prosthetic hair, at the most reasonable prices and in a comfortable environment, in special rooms, with the utmost care to your privacy. We are focused on research and technology. Pursuing innovations and bringing the newest technologies to you our dear customers, are our biggest passion.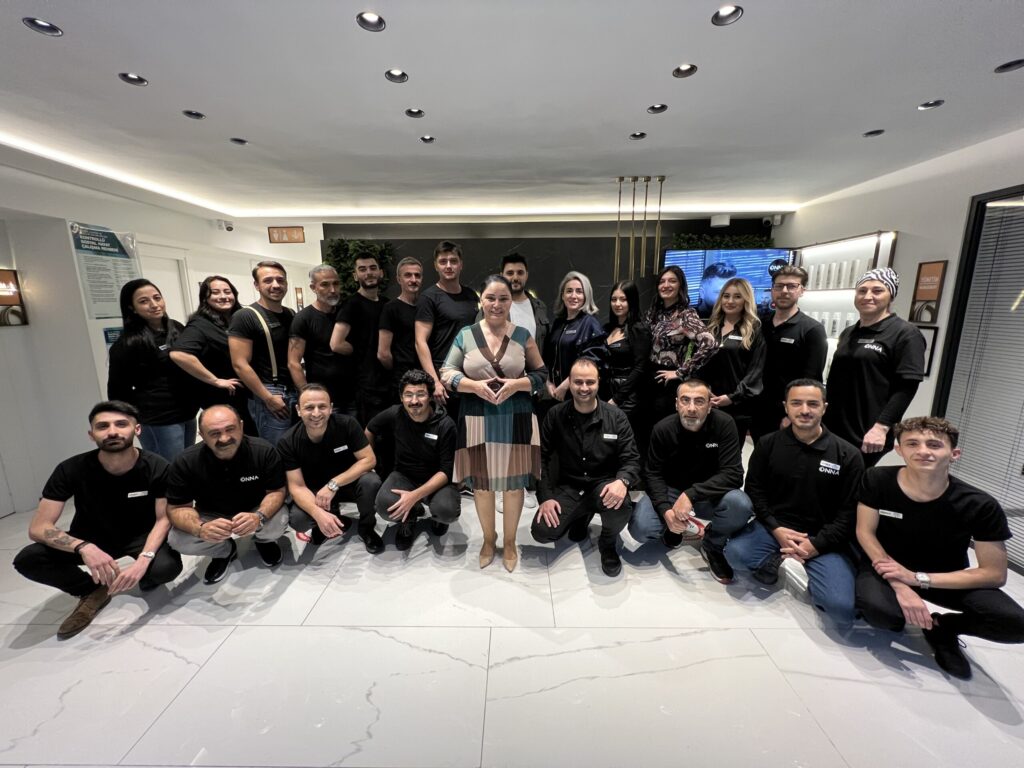 Founder's Note
In a very short time, we made the "Onna" brand the best company in its sector in Turkey. We are at work 24/7 to provide innovative and quality service.

ONNA GROUP
In the Erşan Kuneri project, Onna Hair made beautiful prosthetics for us, it really brought life to our characters.
I've been really smiling since the day we met Onna Hair. It will always be number one with its young staff and understanding team.
What I feared most was that it would cause problems in the surgeries. But there is no problem. I owe them my thanks.
Prof. Dr. Hakan Arıcı
Doctor
We wear helmets for 10 hours a day as a requirement of duty. I had reservations here, but once I start using it, I can say that it is very comfortable.
Sinan Soysal
Police Officer
As a female user, I am very satisfied. It helped me regain my self-confidence in business life. Thanks.

Semra Özyanar Ersoy
Lawyer
I've been using it since I was 23 years old. I am 30 years old now. The last 4 years have been spent with the Onna Hair family. Good thing they are.

Arman Altuğ
Civil Engineer
MAKE AN APPOINTMENT INSTANTLY!