breatⓗtec™
is an hair prosthesis that breathes your skin, surprise you even by its naturalness and is easy to use.
Today, hair prostheses have become one of the most efficient methods used for all problems related to hair loss. It is a preferred method among users because of its immediate effect, aesthetic posture and naturalness, long-term results and more cost effective surgical procedures. There are a considerable number of male and female users of hair prostheses that provide a natural and aesthetic appearance.
Here, we've put together the most frequently asked questions in order to help you gain in-depth knowledge of the method. You can decide yourself whether it is the best solution for your situation.
WHAT IS THE HAIR PROSTHESIS?
Hair Prosthesis with the most practical and short recipe: It is a part that replaces the strand or covers the area where the hair is shed or less dense.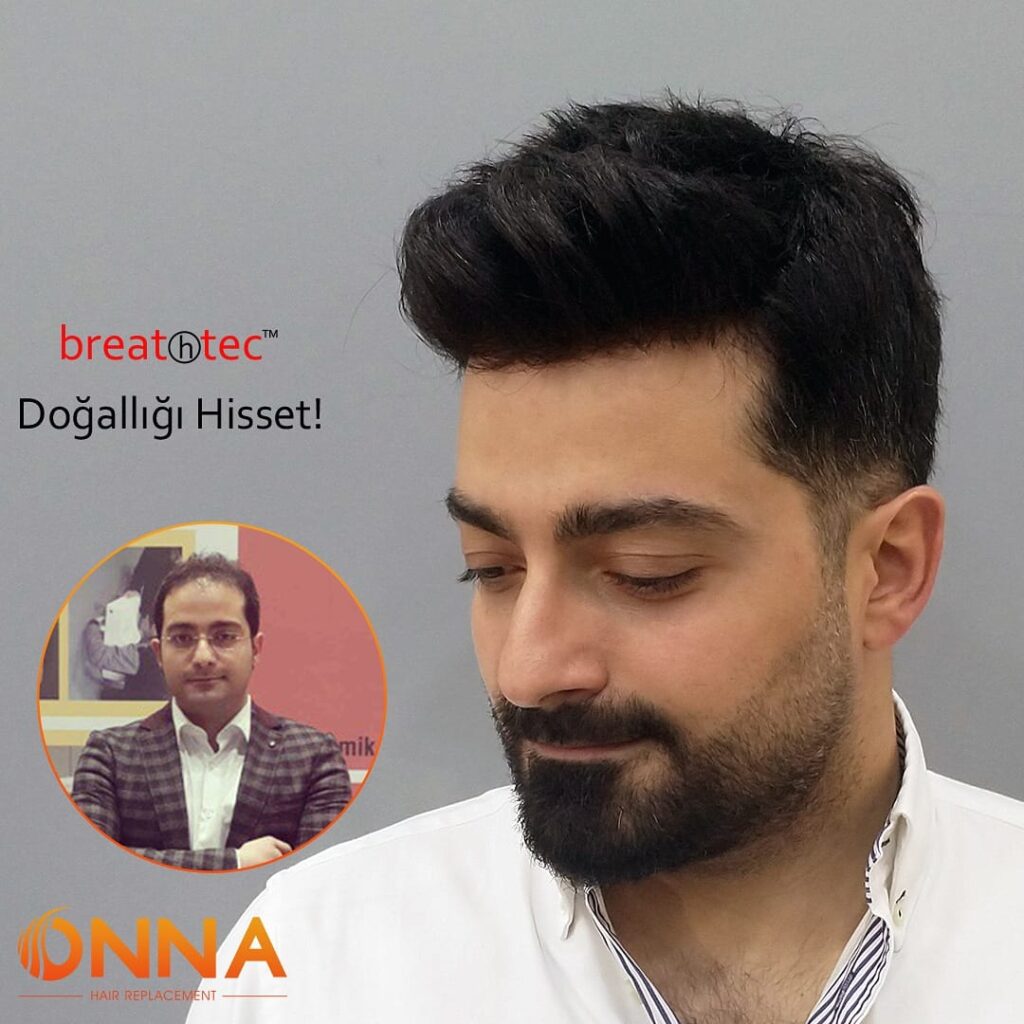 WHAT IS THE DIFFERENCE BETWEEN PROSTHETIC HAIR AND WIGS?
---
"Hair Prosthesis" is the process of applying a new and harmonious part to the only hot spot towards problems of people who has a disease, partial or complete hair loss, hair loss as a result of injury or treatment.

The hair prosthesis is fixed to the scalp with liquid adhesives or tapes. The wig can not be bonded. It is attached to the head with buckles or elastic bands.

Hair prostheses are produced individually by taking the head size of the people, which is the most necessary element for achieving a full harmony and naturalness.

You can swim with your hair prosthesis, sports, run, take a shower, blow dry. Because it is fixed, you have no fear that it will leave your head, slip or fall. This is not a guarantee for wigs. It can remove while swimming, instead of washing in the shower, you have to wash and blow-dry seperately, There is the possibility of sliding anytime, anywhere.

No need to remove the hair prosthesis while sleeping. It will not slip and remove from your head at bed. However, the wig user has to remove his wig when entering the bed.
No more hairlessness is a fate, it is a choice.

breatⓗtec™

meet you with your hair.
WHAT ARE THE ADVANTAGES AND DISADVANTAGES OF HAIR PROSTHESIS?
---
ADVANTAGES:
In the medium and long term, suitable for all cases of definite baldness, such as androgenic alopecia, areata alopecia, cicatricial alopecia, Telogen effluvium, Trichotillomania and patients receiving chemotherapy;
Get immediate results;
Its price is lower than many alternative applications;
Long-term solution;
Allows the user to perform all activities in daily life without restrictions (such as sports, swimming in pool or sea, bathing, sleeping);
It is not a surgical intervention;
If the result is unsatisfactory, the process can be completely restarted and a different project can be carried out until you find the hair that suits you best or you can give up the operation go on your previous life. However, surgical interventions do not have this chance.
No contraindications (most prostheses and care products are hypoallergenic, except for those who are allergic to any of the materials used);
DISADVANTAGES:
Requires periodic maintenance;
Some models used to achieve higher quality and more natural results are often more expensive.